The Twin River Titans Post 263 and Post 144 Juniors have taken over three of their last four games while the Seniors split against Furbury and North Bend.
The Juniors, who hold a record 10-5, defeated Furbury on Saturday, splitting a header on Monday over David City and beating North Bend on Tuesday.
The Twin River Seniors fell to Furbury on Saturday 12-5 and then bounced back with an 8-3 win over North Bend to put them on a 6-6 record.
Both teams will return to the Diamond on Thursday which hosts Battle Creek.
Seniors 8, North Bend 3 (Tuesday): Twin River's first race was all the running support needed for rookie Caleb Morton.
Ashton Johnson and Norman Groth scored two hits and one RBI each. Nehemiah Peters, Mason Fergutz, and Anthony Brown drove one round each.
After a foul, Groth Peters tripled to make the score 2-0. Viergutz's singles RBI, walking three ground-laden bases, managed a 7-0 after one. Brown's sixth RBI was the eighth round for Twin River.
Morton threw a full game that allowed three runs over eight strokes. He hit six North Bend hitters and walked one.
Juniors 6, North Bend 5 (Tuesday): Twin River erased a deficit in three rounds to score a crushing victory. You have entered the bottom of the seventh appendage 5-4. After the strike, Paydon Rinkol and Jerrod Land hit back-to-back songs.
After a wild course Wrinkle scored to tie the match, Garrett Alexander walked to load the bases for Caden Ball. Buhl hit the RBI hit on the right for a dramatic win.
Rincol finished the match 3 vs 4 with one RBI and two runs. On the hill, he threw a full game that allowed five runs in two strokes with six walks and 10 strokes.
Juniors 10, David City 7 (Mon): After David City swept Twin River at Silver Creek on Thursday, the Juniors made their first game thanks to a fourth place eight times.
Alexander hit 3 for 3 with one inning and scored. Tim Jarecki, Wrencol, and Land each led in two rounds. Fletcher Dupas scored three high runs for the team.
The ground win the first game by five runs. Seven five-strokes with one walk and six strokes were allowed.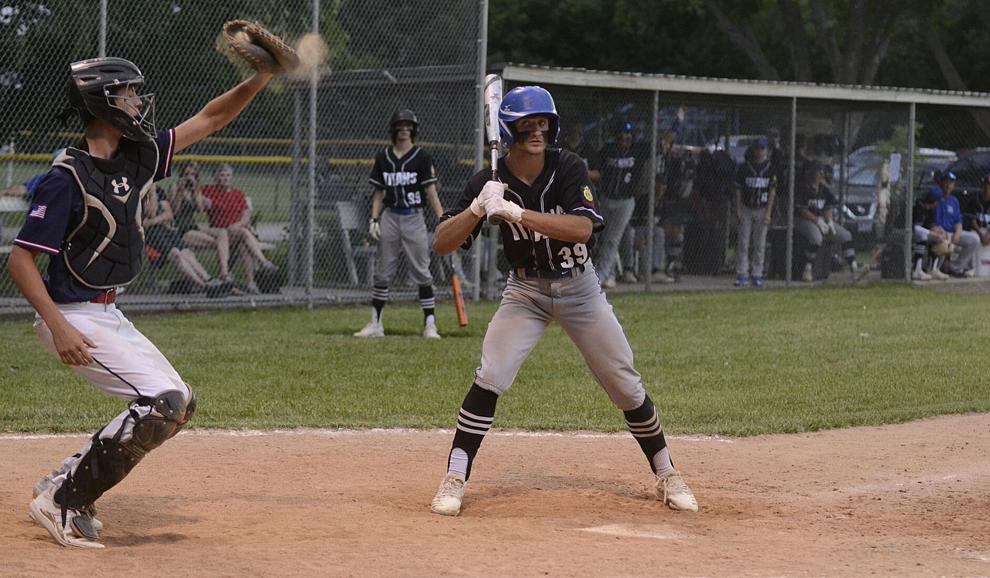 David City 13, Juniors 3 (Mon): David City flipped the script in Game Two, beating the Titans 12-1 in the last three rounds.
Jarecki hit the RBI song at the first to open the recording. In the second, he raced to give Twin River a 2-1 lead. The runaway pitch at Dupas IV was the last race of the Titans.
Dupas, Jarecki's husband, And Alexander doubled down to offset Twin River's attack.
On the hill, Jarecki allowed six runs in four strokes in three innings of action. Pohl threw two rounds in which he allowed seven runs with four strokes.
Fairbury 12, Seniors 5 (Saturday): Furberry sealed four games in the first round and steadily increased his advantage to win. Twin River trailed 6-5 to the bottom of the third inning, but was held up in the last four innings.
Viergutz hit 3 for 4 with one RBI and scored one run. Caden Jenkinson recorded two singles and doubled Grothe for the Titans' only additional base hit. Mason Tenski drove two runs on one per second.
Juniors 14, Feb 3 (Saturday): The Titans scored six goals in the sixth half to score a landslide victory over Ferbury.
Jarecki posted a two-stroke game, two RBI to lead the Juniors attack. The ground recorded two casualties, and seven other Twin River aircraft were hit in one hit. Dubas scored three games, and Blake Mondorf, Pohl and Hudson Orkowski scored two each.
Owen Kortenbach started the match and threw five runs. Three rounds on two hits were allowed with eight walks and two hits. Dubas hit from the side in the sixth.
Connect with the Columbus Telegram Sports Staff at sports@columbustelegram.com.