Sometimes the best stories are multifaceted, mental, and complex. At first, Gloucester Stage Company (as of June 26) doesn't feel like any of these things. In the first few minutes, the narration feels like a well-acted workplace comedy, with angry, resentful employees engaging in first-class squabbles. There's Kendra, a fashion designer who shops and makes several Starbucks that she runs during the day and aims to do nothing at work; Gloria, whom everyone thinks is weird; Dean, who started as an apprentice and believes he is more into his career than he is; and Ani, who is halfway there and doesn't consider herself ambitious. But it's only when the performers' actions become particularly turbulent that the highly toxic work environment's drones (the toxicity that helps feed them, really) find their world upside down when faced with collective trauma.
This play marks the return of Gloucester Stage to its indoor space at Rocky Neck after a critically acclaimed outdoor season in Rockport. Although "Gloria" is the first production under Acting Artistic Director Paula Bloom, they pursue the same provocative programming that marked their productions last year.
Dean Michael Wood (Whizzin' song for the Gold Dust Orphans) is just as funny as Kendra's nemesis (Ann Dang). They were shocked by each other, and the absurdity of their rage-filled competitiveness is sure to be entertaining. But Wood shows great scope in later production as he wrestles with his own fragility and mortality. He embodies this weight that is placed upon him with great sensitivity, physically trembling with fear when tragedy comes. And the ruthless Kendra, always arrogant, can cut and break someone's trust in a few minutes, especially Dean's. Her stubborn ambition (and that of others, too) is especially abhorrent. And the title character, Gloria, is often the object of scorn and is often overlooked by her co-workers until she can no longer.
At its core, Brendan Jacobs-Jenkins' Gloria, with excellent direction from Brian Boyce, highlights the ruthlessness of opportunistic characters who make their way into a book deal or TV deal rather than examining and unpacking the pivotal moments in their lives. Dang Kendra, who strikes fear into the heart of boss Eleanor and editor of "Ice Queen" Nan (Esme Allen who also doubles as Gloria) to take advantage of the pain, feels like bare teeth preparing for prey. Dean also seeks to share his story, but his journey seems more relaxing and distracting than the arduous journeys of others.
Boyce's touch is unmistakable as he is no stranger to complex storytelling and full of truth. She does a beautiful job of letting the characters reveal who they really are. We have a chance to laugh with them and at them and maybe even hate them in a short period of time. There's a delicate moment when Kendra and Annie, dressed in Selena's shirt, depicted by talented Theresa Langford, join a song when one of their favorite artists dies, as well as a scene in which Lauren is a weary fact-checker. (Michael Broadhurst), he has a breakdown, a harbinger of things to come. Elliott Norton Prize winner Boyce often finds herself at the helm of deeply human stories. She brilliantly directed "The Sound Inside" about the relationship of a lone professor with a student at the SpeakEasy Stage Company last year.
The prolific 2016 MacArthur Fellow Jacob-Jenkins has written many prestigious plays, but "Gloria" and "Everyone," a modern adaptation of the 15th-century moral play Everyman, were finalists for the 2016 Pulitzer Prize and 2018. Jacob-Jenkins' full and ambitious work often contains much more than it appears at first glance.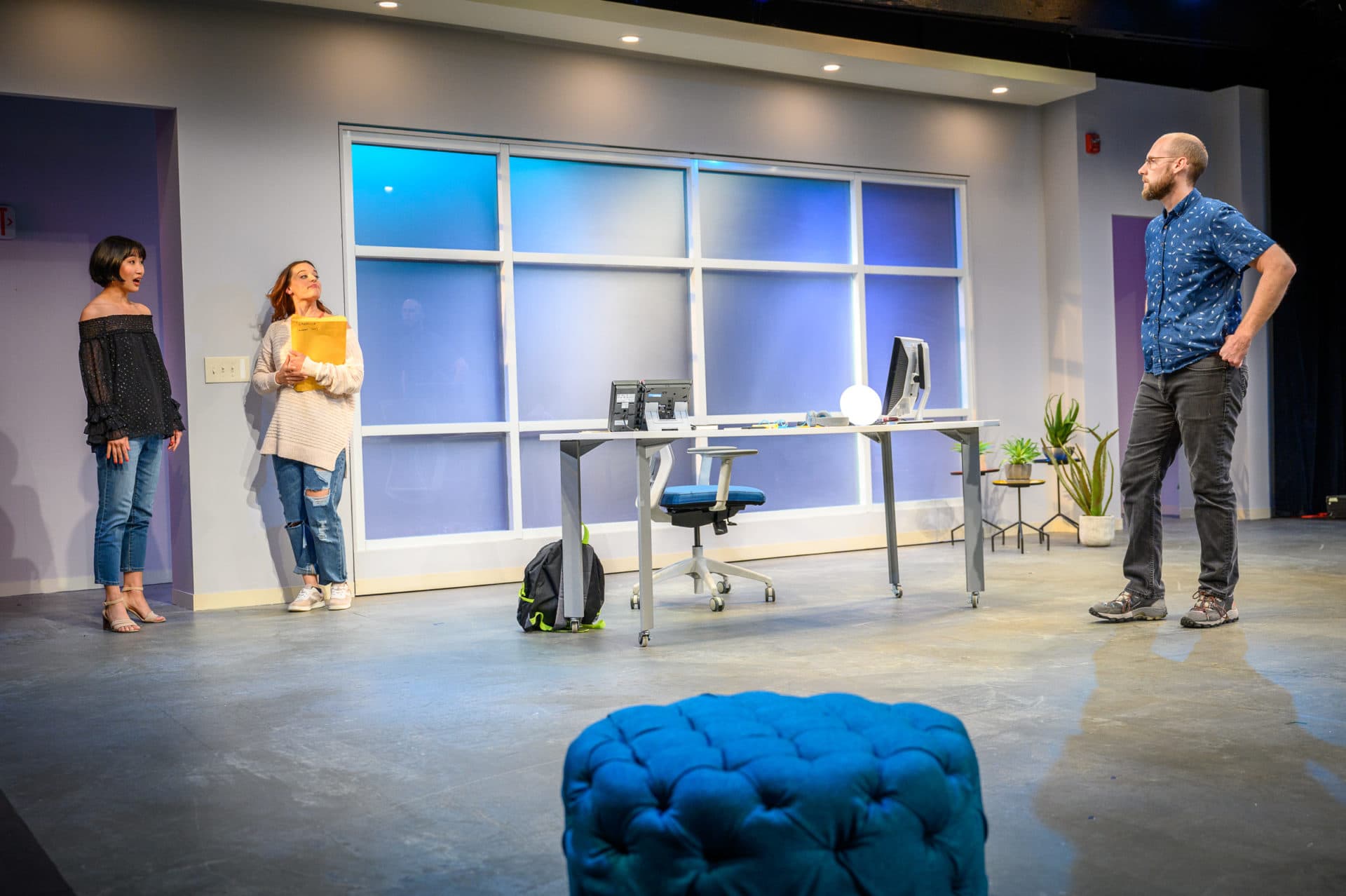 But the struggle in Gloria is a real one, especially for those who work or have worked in publishing companies or who make a living from telling stories. It's easy to get angry at characters vying for the spotlight after enduring a life-changing event. But isn't tragedy, like joy, worthy of highlighting it on stage, in a movie, or in the pages of a book? Perhaps retelling can serve as a warning or prompt others to persevere after a tragedy. And if a group were to test something together, who would shape the narrative? When does telling the truth become a capitalist for the soul? These questions are at the core of Jacobs Jenkins' well-written drama and at least prompted this viewer to continue nibbling on it long after the show's end.
Gloria runs until June 26 at Gloucester Stage.